Masters of PET, champions of recyclability: AMB PET packaging innovations for a sustainable future
ide
AMB Spa, headquartered in north-east Italy, is one of the leading international suppliers of sustainable solutions for rigid and flexible films and an innovator in recyclability. The company uniquely offers an 'all in one place' approach that includes all aspects of the packaging process: design, tooling, product specification, film production, print design and application. For many years, it has pioneered and mastered PET solutions to drive recyclability in packaging.
360-degree PET expertise
AMB has long invested in PET, believing that the material is the best solution for circularity within food packaging. The company deploys state-of-the-art technology to ensure that its PET products perform consistently and meet precise specifications for colour, surface, thickness, formulation and function: high-tech manufacturing makes AMB the industry leader in PET solutions. In addition, all manufacturing processes are as sustainable as possible to conserve resources and raw materials. Taken together, all these aspects enable the company to offer total PET packaging solutions with the strictest specifications for product protection, performance and sustainability.
Mastering tray-to-tray recycling with AMB TrayRevive
To create its innovative TrayRevive product, AMB partnered with B. For Pet, a major Italian recycler. This collaboration ensures that post-consumer trays can be processed to produce rPET flakes for food packaging.  AMB TrayRevive utilises post-consumer trays which are broken down into flakes and then used to manufacture a tray-to-tray product. The raw material undergoes a strict process of analysis – it is checked for contamination, and the quality of the flakes is evaluated to make sure that they are of food-grade quality. This investment in recyclability enables AMB to rightfully claim that TrayRevive closes the loop of the circular economy.
Mastering end-to-end sustainability with AMB TotalMono PET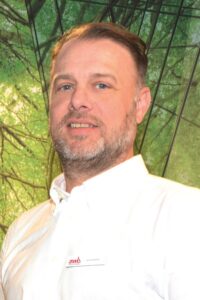 Using 100% mono PET solutions for both top and bottom films has many benefits. One of the main advantages is that the lower thicknesses of AMB TotalMono PET compared to multilayer products means less plastic is needed for production, which leads to a reduction in material waste. Additionally, the lightweight nature of AMB TotalMono PET also contributes to energy savings. Less space is required for transport, which results in fewer trucks on the road and less fuel consumption. This helps to reduce carbon emissions and promote more sustainable practices within the industry.
Another key benefit of AMB TotalMono PET is its high barrier protection for sensitive foods, which can help to extend their shelf life and reduce food waste. By reducing food waste, we can ensure that sustainability is not only achieved during the production process but also on the shelf.
Overall, AMB's 100% mono PET solutions are an excellent example of how sustainability can be integrated into packaging production while also providing performance benefits.
Innovation and customer service in its DNA
AMB's team of experts are always looking to collaborate on forward-thinking ideas. To facilitate this, the company recently launched an innovation programme with Skipso, a provider of advisory services and management platforms that allows enterprises to structure and manage their innovation initiatives in one place. Through the platform, AMB intends to collaborate with start-ups that are developing cutting-edge solutions for sustainable packaging, smart packaging, and shelf-life quality.
"From day one AMB's drive for innovation has been key to our own growth and to the success of our customers," says Jamie Davies, Market & Communications Director of AMB. "This drive is backed up by a sales team that has a proud track record of finding the right solution for every application; by expert technical support that ensures customer products meet exact specifications, and by customer service representatives, who respond to every request and ensure deliveries are always made on time."